Flash Note
GLOBAL FUNDS
At the end of September, Hillary Clinton, democratic candidate for the US presidency, used Twitter to speak out against the excessive price of specialist medicines. She particularly targeted Turing Pharmaceuticals, which hiked the price of Daraprim from USD 13.50 to USD 750. This announcement caused healthcare and biotechnology stocks to drop sharply. As investors took profits, the sector's decline could also be attributed to a fine performance since the beginning of the year.
Key Takeaways
Healthcare stocks: 10% of Carmignac Patrimoine and 24% of Carmignac Investissement as of 30/09/2015
High volatility within the sector following H.Clinton's declaration about a possible drug prices regulation in the US - Probability of drug prices regulation is low
A selection of healthcare stocks based on innovative companies with a unique positioning on booming treatments (cancer, diabetes) and offering attractive valuations
The functioning of the US Health care system
Unlike in Europe, the US pharmaceutical market largely uses an unregulated pricing system, which depends on negotiations between pharmaceutical companies and private health insurance firms. Medical insurance is mostly private in the United States.
Americans are generally covered through their employer. Alongside the private system, there exist two government programmes: Medicare for the over-65s and Medicaid for people on low income. The increase in the official price of medication in the United States was 20% in 2014.
However, insurance companies can negotiate special terms with the pharmaceutical industry. So in reality the rise in the price of medication is, to a large extent, offset by the discounts that private insurers obtain.
According to the regulatory framework, the Medicaid programme automatically receives the best discount obtained by any health insurer for a given type of medication. Hillary Clinton is proposing to extend this preferential discount system to Medicare, which has more beneficiaries.
What are the potential risks to the healthcare sector?
The passing of any such reform of the healthcare system would require a democratic president and a democratic majority in Congress to be elected in 2016.
If this were to happen, the impact of pharmaceutical price regulation would be fairly limited, especially for the most innovative companies who by their nature come under less competitive pressure.
Even in a worst case scenario, no impact on profit forecasts would be likely before 2018.
According to our analyst Tim Jaksland, the blow to healthcare companies' US revenues would be around 5%.
For our portfolio's two biggest holdings, Celgene and Novo Nordisk, the United States accounts for around 50% of revenue, so the global impact on revenue should be around 2%.
Long-term convictions
Our investments in the healthcare sector reflect a long-term investment theme built around global leaders. In a global environment characterised by rare growth, these companies' ability to increase their earnings without relying on the pace of global GDP growth is a big plus.
The healthcare sector's fundamentals have improved considerably since 2011. With the patent cliff coming to an end, a busy pipeline and low interest rates have improved growth in average revenue and earnings per share.
Although we are expecting healthcare stocks to become more volatile ahead of the US elections, we remain confident in long-term fundamentals.
Against a backdrop of uncertainty combining weak global growth with a risk of global liquidity ebbing away, we have faith in the healthcare sector's resilience.
Attractive valuations
Our stocks are attractively valued. Prices have fallen sharply even though earnings growth forecasts are up. The sector has been trading at a premium relative to the US market since 2012. Healthcare stocks have been showing a historical discount in recent weeks.
MSCI USA (MXUS Index) vs MSCI US Healthcare (MXUSOHC Index)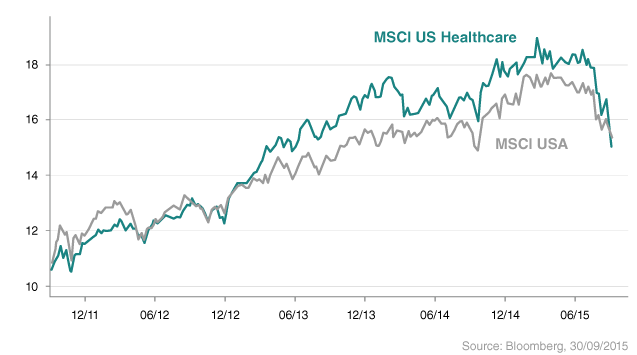 Careful stock selection in a growth sector
We are basing our stock selection on the most innovative companies, positioning ourselves only on promising treatments. The healthcare and biotechnology sector accounted for 24% of Carmignac Investissement and 10% of Carmignac Patrimoine at the end of September 2015.
Our three strongest convictions in the sector:
Celgene (in the portfolio since 2008): the company has a unique positioning in the treatment of cancer and chronic inflammatory diseases. Celgene has solid fundamentals and numerous growth drivers. The company is planning to launch several new types of medication, some of which are already due to obtain marketing authorisation.
Novo Nordisk (in the portfolio since 2008): a leader in the insulin-based treatment of diabetes. Novo Nordisk is highly profitable and has a new range of promising medication. It has two flagship products on the insulin market: Levemir, whose market share is around 20% and growing, and a new product, Tresiba, which the FDA has just approved. The basal insulin market is showing growth of 4%-5% in the United States.

Novartis (in the portfolio since April 2013): specialist in medication for treating respiratory, cardiovascular and infectious diseases. The company should produce double-digit EPS growth in 2016-17, sustained by margin growth and a strong performance by its pharmaceuticals division. The launch of a new medication to treat heart failure, Entresto, should be another growth driver in the coming years. Novartis has the strongest track record in R&D among the pharma large caps.